As part of Manchester Science Festival, Manchester Metropolitan University and the Manchester Modernist Society are pleased to present a walking tour of Oxford Road – the city's own 'Knowledge Corridor'. Over the course of the 20th century, Oxford Road has become the site of some of the world's greatest scientific discoveries – from splitting the atom to the recent discovery of graphene. The street is home to some of the city's most challenging and controversial Modern architecture.The tour will intertwine the history of Oxford Road's development over the last 100 years together with profiles of the some of the great, and not so great, scientists who once perambulated along this historic thoroughfare.
The tour will end at the Sci-Eng50 Exhibition at the Holden Gallery. The exhibition will show scientific equipment from the last 50 years, as well as photographs and architectural drawings and models of the development of Manchester Metropolitan University campus.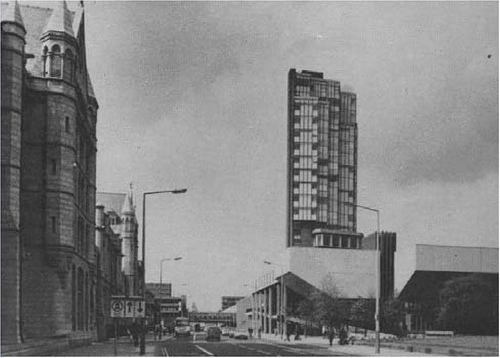 Dr Steve Millington (Manchester Metropolitan University) and Eddy Rhead (a founding member and trustee of the Manchester Modernist Society and regular contributor to the society's magazine, The Modernist) will lead you on an examination of how higher education has become entangled in the planning, architecture and branding of the city – from the post-war re-imagining of Oxford Road as an educational and cultural precinct to its modern position as a driver of a global knowledge economy.
So please meet in the Chester Street entrance of the John Dalton Building (Oxford Road), Manchester Metropolitan University at 1pm on Saturday 25th October. The tour is free, but places are limited to 25 per tour.
Feel free to come early and enjoy the Science Extravaganza taking place in the John Dalton Builiding on Oct. 25th as part of the Manchester Science Festival.
Reserve a free place on the tour here.